Insurance Analytics (IA+)
GrayMatter's Insurance Analytics (IA+) is an out-of-the-box performance management solutions especially developed for middle and senior management of Insurance companies who are responsible for driving growth in a highly competitive business environment. Insurance Analytics (IA+) covers complete spectrum of Insurance Business Intelligence from Sales & Distribution to Marketing, Claim, Underwriting, Actuarial, Operations, Reinsurance & Finance.
Insurance Analytics (IA+) consists of highly intuitive role-based dashboards, scorecards, multi-dimensional cubes for data exploration and predictive analytics models for Up-Sell / Cross Sell, Sales Forecast, Claim Forecast, Lapse & Surrender models to improve the performance of the team and department. The dashboard has ability to showcase multiple scenarios of the business which can assist the users in taking informed decisions across the line of business and functions.
Customer Speak:
IA+ implementation at AIA SriLanka
Insurance Business Intelligence – Key Benefits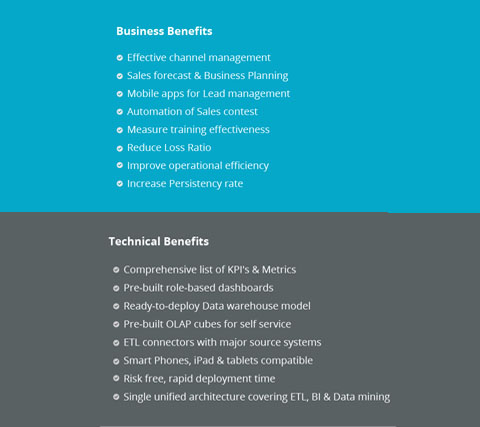 Insurance Analytics (IA+) Modules
Insurance Analytics (IA+) is designed with a modular approach to meet the specific requirements of each function head such as Sales & Distribution, Marketing, Claim, Operations, Underwriting, Actuarial, Reinsurance & Finance. The scorecard comprises of most relevant KPI's & metrics for each function with month-to- date (MTD) and year-to- date (YDT) performance against the plan. Each functional module provides in-depth coverage to ensure business users has sufficient information for effective decision making.
A COMPREHENSIVE INSURANCE ANALYTICS (IA+) SOLUTION
GrayMatter Insurance Business Intelligence team understands technical & functional challenges of insurance companies. Having an integrated data management strategy coupled with GrayMatter's deep domain expertise in Insurance Industry, can help Insurance Companies in aligning their actions with the short-term & long-term business goals. We help our clients deploy most reliable, accurate, scalable, and integrated analytics solution by leveraging their existing database and Business Intelligence (BI) platform. Our Insurance Business Intelligence team also assist clients in creating a comprehensive business analytics road-map which includes single customer view and enterprise data warehouse strategy for seamless flow of information across organizational for effective decision making.
No One Covers Insurance Analytics the way we do!