Insurance Analytics (IA+) is a pre-built analytics solution for middle & senior management of Insurance companies mainly focused on top-line growth, operational efficiency and customer retention. Insurance Analytics Solutions (IA+) comprises of role based dashboards, scorecards, OLAP cubes for ad-hoc analysis and predictive analytics in insurance for the following functional areas:
Sales & Distribution
Marketing
Claim
Underwriting
Operations
Actuarial
Reinsurance
Key Benefits of Insurance Analytics (IA+)
Managerial Effectiveness: Enhance the effectiveness of middle & senior management in improving financial results and driving values for the organization.
Improve Operational Efficiency: Highlights operational issues and bottle-necks in each process and enable the business managers in fixing them efficiently.
Reduce Cost: It automates all Management Reports & Analysis hence; Full-time Equivalents (FTE's) can be re-deployed for other Functional area.
Improve Decision Making: It enables the decision makers to respond to market faster in a highly competitive business environment.
Top-line Growth: Leader's dashboard enables the business user's focus on those KPI's & metrics which has high impact on Top-line growth & operational efficiency directly or indirectly.
Saves Time: Reduce time and steps needed in computing data and preparing information required for effective decision making.
Return on Investment (ROI): The application can Go-Live within 4 months thus, Business Users can start realizing benefits much earlier than traditional approach.
Insurance Analytics (IA+) Modular Value Proposition
The image below depicts the modular value proposition of the IA+ solution. The Insurance Analytics solution covers enterprise-wide needs for BI and Analytics with every module mapped to a department or functional area of insurance business.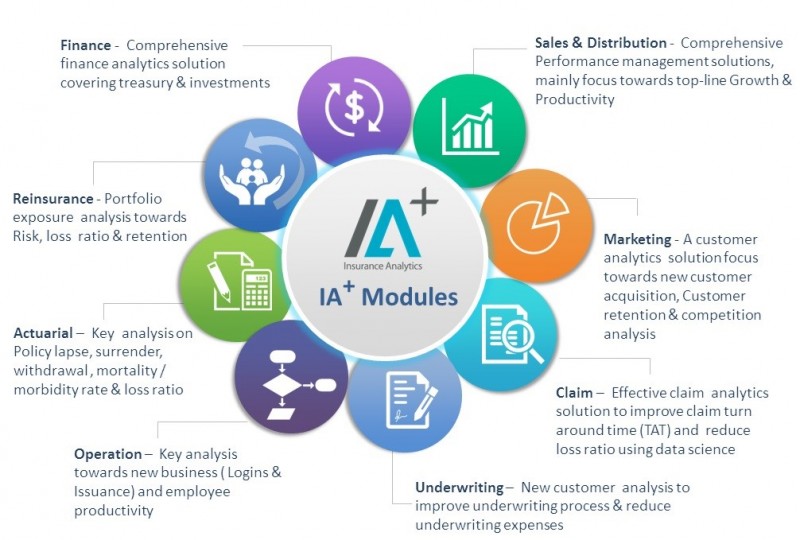 Insurance Analytics (IA+) Product Definition
The enterprise-wide coverage of the solution arises from a carefully crafted product definition that ensures comprehensive and detailed analytics. You can notice in the image below that each module has been split further into sub-modules and dashboards, reports, visualizations as well as advanced analytics have been identified and configured to meet specific functional needs.