GrayMatter's Predictive Analytics in Insurance Company
Predictive analytics in Insurance Company is used in tracking, evaluating and analyzing sales & distribution, underwriting, operations, claims and marketing in Insurance business. Practice of predictive analytics has become more communal in insurance business in the recent years.
To adapt to the changing market landscape, an organization must monitor changes in buying patterns and behavior based on demographics, geographic, psychographics & behavioural attributes of the customer. If existing policy holder's data are analyzed scientifically, it can throw many insights of the customer such as their buying behavior, buying Pattern, which can help in Up-Sell/ Cross sell customer retention.
GrayMatter's is specialized into Predictive Analytics in Insurance businesses. GrayMatter has a mix of insurance domain experts as well as advanced analytics practitioners skilled in techniques like regression, cluster analysis, factor analysis, association rules etc. Our Insurance customers have reaped benefits through these techniques e.g., lapse prediction, Up-Sell/ Cross-Sell, product packaging, customer profiling. GrayMatter has a sharp focus on key areas in insurance business like Persistency Management.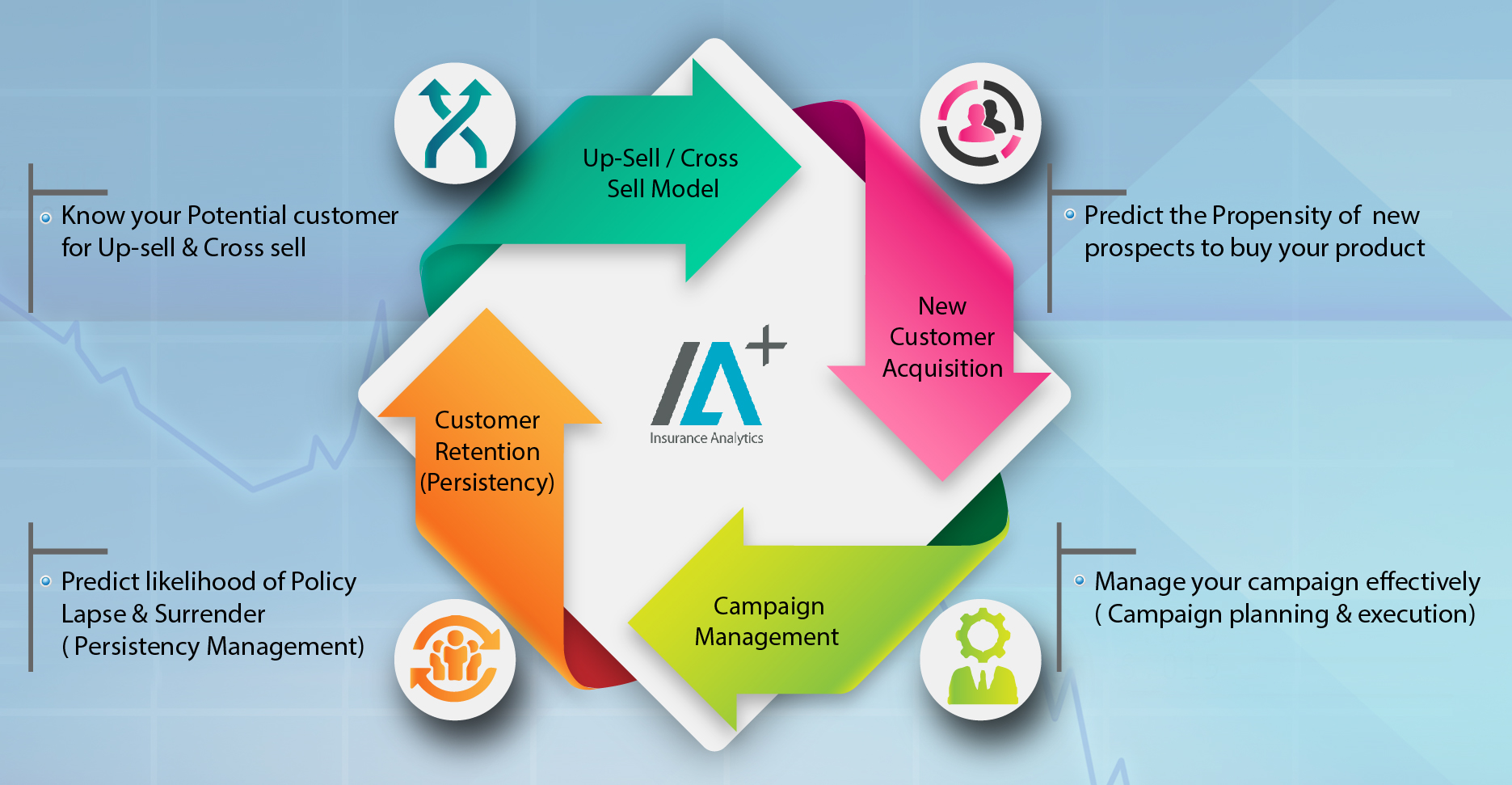 Register for a Free Demo now!
Key benefits with Predictive Analytics in Insurance Company:
Know exactly which Product to pitch to New Prospect
Improve ROI from marketing campaign
Propensity model for Up-Sell/ Cross Sell
Improve Sales conversion ratio from new leads
Predict likelihood of lapse & surrender (Persistency)
Insurance business is all about risk valuation and using that information to make cost-effective and profitable decisions. An objective assessment of risk is only possible by quantitatively factoring in all the insurance departments data that could affect an outcome in the future decisions and growth of the insurance company. GrayMatter is providing predictive analytics and capable of accepting data-sets from a variety of sources, such as historical data of each customer and each department and consumer trend analysis data, to create predictive analytics in insurance which is designed to predict future behavior.