Business Intelligence for Insurance
Business Intelligence for insurance is a necessary tool for key executives and decision makers to make informed business decisions to sustain and enhance businesses in today's competitive landscape.
Business Intelligence includes a wide array of tools, applications, and techniques that empower companies to gather information from internal and external sources; set it up for analysis; create and run queries against that information or data; and make reports, dashboards and visualizations to enable systemic action points accessible to corporate leaders, as well as specialists.Business Intelligence works for a common interest across organizations and industries: to lessen costs, to improve revenues and to increase profitability.
The changeability of the insurance sector necessitates that understanding data and utilizing it to make informed decisions have become major business goals. This not just empowers officials to examine how compelling their current solutions are but also to analyze how insurance sector trends are impacting businesses. With the help of real-time data, insurance companies can react to market changes as fast as possible which can give the significant advantage during tough market conditions.
In the insurance business, organizations need to look at several business areas including sales & distribution, claims, operations, underwriting, marketing, finance and actuarial. Insurance Business Intelligence planned and executed in the right manner goes a long way in delivering the right Key Performance Indicators (KPIs) at the right time to key business decision makers across the aforesaid business areas.
For instance, Insurance BI improves distribution channel productivity, enhances marketing campaign effectiveness, lapse reduction, claims loss reduction, increases underwriting effectiveness, enhances operational efficiencies and so on.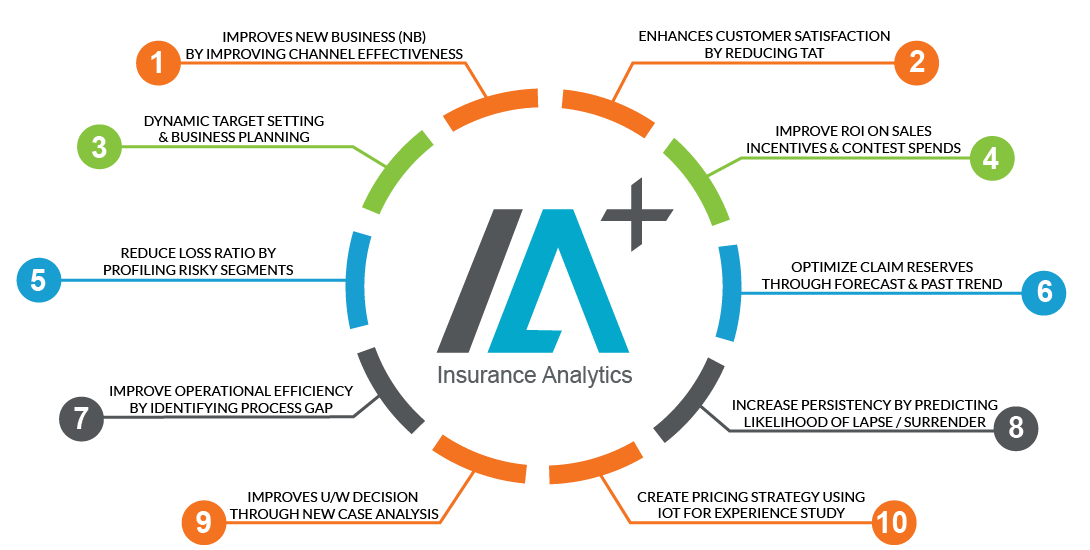 Why is Business Intelligence important for Insurance?
Provides data-driven insights to make better business choices. Most of the time, key executives take decisions as per their experience and current market situation but often these decisions do not work due to lack of information or data. With the help of Business Intelligence, the decisions will be based on information and data-driven, not taken by premonition. You will have the capacity to investigate information progressively to make prompt choices.
Helps Identify new income opportunities. By having the capacity to investigate every data, you will acquire every piece of knowledge about potential ways which you may have missed before. You can make new offers to change in accordance with the present market circumstance and to better fulfill your customers' requirements.
Successfully track Key Performance Indicators by getting alerts and notices each time information changes with respect to a particular KPI. On the other side, if the data transform, you will come to know and can drill down to perceive any reason why it happened and what would you do to fix it.
Gives answers to every one of your inquiries, additional answers to questions you didn't consider yet. This is the brilliance of automated insights, BI tools maintain a strategic distance from our normal observation and give us 'answers' to issues we haven't taken a note.
Allows distinctive kinds of clients to get data and dashboards. With automated solutions, business clients don't need to rely on IT team to have information and make dashboards; rather, they can get key data and reports.
Gives a 360° perspective of your clients. You will understand the client's behavior in a better way and utilize it to give the client custom offers. To know what clients purchase or don't, at what time and where empowers you to transform this data into the benefit.
Enable you to deal with the measure of inventory you arrange, the coordination for a right administration, and identify any oddities in the stock information.
Spare you a ton of time by giving you experiences inside seconds. Long gone are the times of unearthing trends that took weeks. Your group would now be able to find quick solutions.
The significance of Business Intelligence for Insurance lies in the capacity to arm leaders with access to insights ranging from basic data to advanced analytics when and where they require it. Organizations that are spending on BI & analytics will see returns in operational effectiveness, profitability and customer satisfaction.