Insurance Business Intelligence
What is GrayMatter's Insurance Analytics (IA+)?
GrayMatter's Insurance Analytics (IA+) is an enterprise-wide, comprehensive analytics solution for Insurance companies. Insurance Analytics (IA+) covers complete spectrum of Insurance Business Intelligence from Sales & Distribution to Marketing, Claim, Underwriting, Actuarial, Operations, Reinsurance & Finance.
Insurance Analytics (IA+) consists of  role-based dashboards, scorecards, multi-dimensional cubes for BI and predictive analytics models for Up-Sell / Cross Sell, Sales Forecast, Claim Forecast, Lapse & Surrender models to improve the performance of the team and department. The analyses showcase multiple scenarios of the business which can assist the users in taking informed decisions across the line of business and functions
How GrayMatter's Insurance Analytics (IA+) will help to grow your business?
GrayMatter's IA+ can transform the way insurance companies measure and improve their business. The solution not only ensures increased profitability and enhanced top line but also operational aspects to improve overall customer experience. The solution offers role-based insights across roles, across departments which ensures complete business coverage of any functional area. The analyses required for interfaces between functional areas are also addressed very well so that a truly role-based, enterprise-wide solution is offered to the customer.
There are several business benefits of IA+ , the key value adds include improving new business, enhancing renewals, improving operational efficiency and hence process TAT, rationalize business planning, enhance underwriting decisions, streamline pricing strategies, reduce loss ratio, optimize claim reserves, mobile apps for lead management etc. The image below depicts the value proposition that IA+ stands for, by virtue of the aforesaid business benefits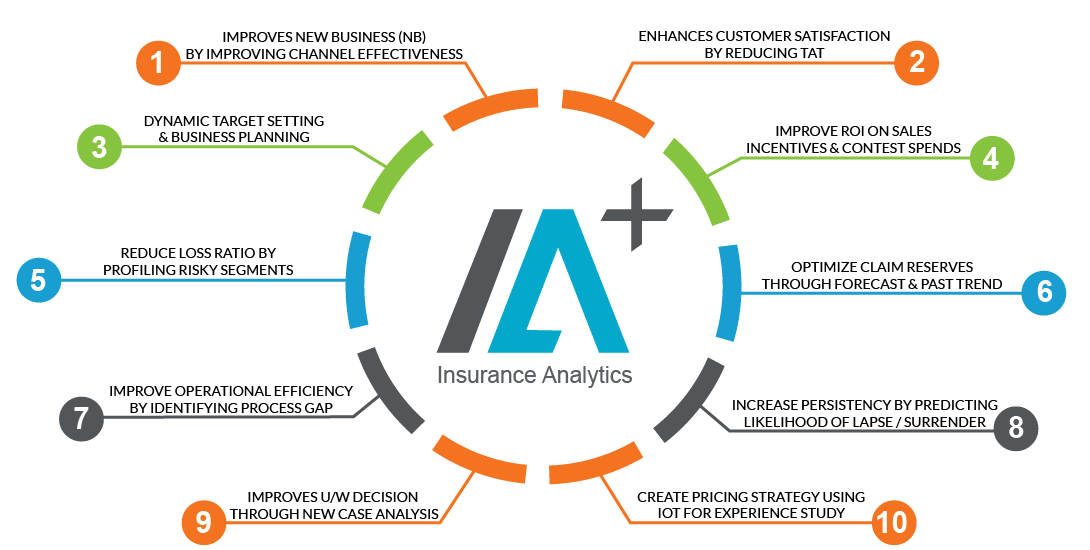 What differentiates IA+?
Covers Complete Analytics in Insurance
Comprehensive list of KPI's & Metrics
Covers End to end Insurance Big Data Analytics
Single Unified Architecture covering ETL, BI and Data Mining
Pre-built OLAP Cubes for self-services
Ready to deploy Data Warehouse Model
Pre-built Role based Dashboards
Smart Phones, IPads and Tablet Compatible